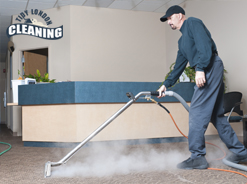 Sometimes extremely soiled carpets cannot be salvaged but here at our company we do our best to keep your belongings in good condition before you give up on them for good. We provide thorough and reliable carpet cleaning services in London and we generally clean various types of carpets. Our mission is to remove grime and debris at all costs. Not only do we freshen the fabric, but we rid it of bacteria and dust mites, which are so harmful for human beings.
It is our goal to meet customers' needs. Our carpet cleaning service is timely, effective and not very expensive. We charge by the size of the work and we offer free consultations. All work commences after a thorough inspection done by our specialists.
Even if you vacuum your carpets weekly, this is not enough for their proper maintenance. Vacuuming them will reduce the amount of dust and mites and prevent them from building up with time, however, deep cleaning of all carpets is required at least once every few months, in order to remove stains, disinfect them and benefit your healthy household.
We use only high quality professional machines and detergents. Those, used by our experienced professionals, are able to achieve flawless results in cleaning, disinfecting and refreshing all your carpets. Stain removal is another part of carpet cleaning that is crucial. Many of us have tried home remedies, found on the internet, but those usually turn out to be unsuccessful. The reason for this is that all stains need a different approach and what is more, all carpet materials require different treatments. That being said, we strongly suggest you turn to a professional for that and not attempt anything on your own. Not only might you not succeed in stain removal, but you also risk damaging your carpet permanently.
All our cleaning technicians are very experienced and know exactly how to take on a certain type of carpet, in order to clean it thoroughly without damaging its surface.We work with a wide range of products and detergents, each one with its particular purpose. Trust us on this one and you will not regret your decision.
In the beginning of the process our technicians will run multiple tests to figure out what are the materials in your carpet, as well as examine all stains prior to treating them. That way they can choose the best method and detergent, without posing a risk of damage. It may be necessary to vacuum the carpet to suck up large debris and dirt. Before we start cleaning, we also need to ensure that all soil deposits have been dissolved. They are much easier to remove like this. For this purpose, we use special solutions that loosen dirt and stains. This is the first step of the carpet cleaning and it is called pre-treatment.
The next step is to steam clean the fabric to eliminate harmful organisms and dust mites. The machines we clean carpets with utilise high heat and pressure. This is one of the reasons that steam cleaning machines are so effective in removing grime, bacteria and allergens both from carpets and upholstery. We can assure you we have an arsenal of cleaning supplies and tools, the most efficient and high-end equipment the carpet cleaning industry has to offer.
Let us summarise the whole process in a few simple steps
Testing the fabric of the carpet and the stains that occur on it
Choosing a product that will achieve best results without causing any damage
Vacuuming the whole surface of the carpet
Applying the detergent of choice on stained and highly polluted areas
Using the steam cleaning machine in order to dissolve all dirt and disinfect
Deodorise your carpets
Extracting up to 95% of the moisture from the carpet to speed up the drying process
We also provide dry cleaning for more delicate fabrics and not so-heavily stained carpets. Dry cleaning is a new technique and benefits you in time, since you don't have to wait for your carpets to dry after cleaning.
The technicians will run tests on the fabric and materials of your carpet
The whole surface will be thoroughly vacuumed, since any left dirt or grime may result in further staining in the process.
The dry solution of choice is spread on the whole surface of the carpet (foam or powder) . It is left on for at least an hour. The chemicals in this detergent react with the stains and the grease in them. By dissolving the fats in the stains they help the removal process.
After the solution has done its job, a rotary machine is used. It has cotton pads soaked in hot water on the bottom of it and it removes all detergent along with the stains it dissolved.
We are able to work with any kind of carpet
Wool
Cotton
Silk
Polyester
Acrylic
Polypropylene
Bamboo
Hemp
Sisal
Viscose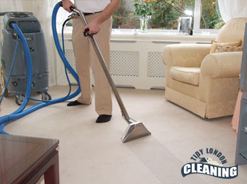 Sometimes having the best equipment is not enough. Apart from this you also need to have the right skills. Here at this company each of our employees has been tested and trained to ensure that our service is professional from start to finish. Even our call centre workers are professionally-screened. We have trained them to address customers' enquiries promptly and to schedule appointments as quickly as possible. They know they should do their best to make you feel comfortable. They are friendly and they work with desire. We will make sure to help you. You just need to call us to inform us about the problem. Once we schedule a service, we will prepare all the tools we need and send our cleaners to your home. London has always been our area. This is where we work so if you are a resident of any London district and you want to have your carpets cleaned by a professional, we are at your disposal.
If you want to use our services, just ask. We are there for our clients and we make sure we fulfil their requests. You can get in touch with us any minute using our contact numbers.
The benefits of working with us also include
Availability 7 days a week at a convenient for you time
Only biodegradable, non-toxic products used
All cleaners are professionals with attention to details
All tools and products used are included in the price
Honest evaluation of the work and no hidden costs
Full insurance on all employees and services
Office support available any time for your convenience
Flexible task list so you can receive all tasks you might need
All products we use for cleaning carpets and upholstery are high end professional ones. They are extremely efficient in cleaning and stain removal while being harmless to human health. They are 100% biodegradable, eco-friendly and non-toxic. We avoid using harsh chemicals so you do not have to worry about that.
Give us a call now and ask our office agents any questions you might have. They are absolutely capable of giving you detailed information about any service, advising you on a particular situation and giving you a free quote. Whenever you share some details about the particular task you have, they will pick the best cleaning team for you and send them over as soon as possible. Do not hesitate and let us take proper care of your home so you don't have to!
You can call us at 020 3745 5856