Office Cleaning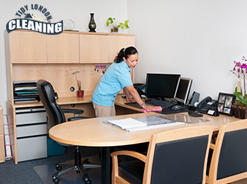 Every employer who is really concerned about the well being and the productivity of their employees would do their best to ensure a pleasant work environment where everybody would feel good physically and mentally, and be prepared to deal with all the challenging tasks for the upcoming week or month. Apart from treating their employees right, ensuring the cleanliness in the office is one of the essential details an employer has to pay attention to. Bearing that in mind, hiring a reputable and well – organised cleaning company with experienced and knowledgeable staff is critically important. We understand how the office atmosphere might affect the people working in it, so we want to make sure everyone is satisfied and feeling well in the place of business. Especially nowadays, when we have to take extra care of our health, cleaning and disinfection are of crucial importance. It is our priority that we follow the detailed checklists and cover every single corner and area of your office.
If you are looking for a trustworthy company to take on your regular office cleaning, you have just found your reliable cleaning provider. We have developed a competitive office cleaning package that includes all the procedures intended to maintain the office neat and clean all the time. Rest assured that it will pass any inspection by the authorities and make an incredibly good impression to your business partners and clients. We are able to clean your office, as well as the whole office building if you request so.
Our cleaning professionals have been thoroughly trained prior to their hiring and now we take pride in having the best cleaning operatives in the region. They are knowledgeable and skilful, prepared to take care of the common areas, sanitise the bathrooms and put everything in order so your office looks impeccable. No matter in which Great London area your commercial building is located, our cleaning operatives will arrive there on time, in accordance with the initial schedule. Feel free to call our office and the agents will discuss the details about the office cleaning service with you.
You probably never thought about all the dirt, dust and microbes that are hiding around in your office. When many people touch the same objects multiple times a day, it is easy to let those build up. All computers, screens, computer mice, chairs, door handles etc. are things that should be carefully cleaned on a regular basis, in order to maintain a clean and safe environment.
Here are the main areas we cover when performing office cleaning
Dusting and polishing of all surfaces
Dusting and cleaning all computer and computer screens
Disinfecting keyboards and computer mice
Wiping and disinfecting desks
Disinfecting of all door handles and door knobs
Cleaning and disinfecting bathrooms and toilets
Cleaning and disinfecting of sinks and their taps
Vacuuming all office upholstery (sofas, office chairs etc.)
Vacuuming and mopping all hard floors
Vacuuming all carpets and curtains
Cleaning all kitchen appliances externally
Disposing of all rubbish
Cleaning and disinfection of all common areas
Elevator, staircase cleaning and disinfection ( upon request)
Internal window cleaning
All detergents and products we use when performing any type of cleaning service are 100% safe for children and pets, non-toxic, biodegradable and eco-friendly.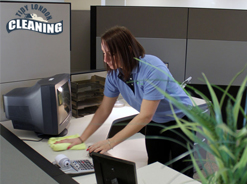 All cleaners are fully vetted and thorough background checks have been done on them prior to their hiring. They are professional cleaners with a long experience in the cleaning industry. We also provide them with special training for the particular job they perform. Along with the professional, high quality tools and products they bring they are capable of reaching perfect results and know exactly how to handle any situation.
After providing domestic cleaning services for many years we decided that we must also provide office cleaning since it is as important. In the past years we have worked hard to develop a detailed, very well-organised system to follow when performing this service. You can rest assured no places will be missed.
The benefits of working with us also include
Availability 7 days a week at a convenient for you time
Only biodegradable, non-toxic products used
All cleaners are professionals with attention to details
All tools and products used are included in the price
Honest evaluation of the work and no hidden costs
Full insurance on all employees and services
Office support available any time for your convenience
Flexible task list so you can receive all tasks you might need
We know how distracting the sound of the vacuum cleaner or the presence of unknown people can be so we have established a flexible schedule for our cleaning experts. It enables them to come and take care of your property at the time you decide it wouldn't be a bother to you and your staff. Our cleaning professionals can carry out the office cleaning procedure before or after working hours or during the lunch break so any inconvenience is kept to the minimum. The office cleaning services are said to be pretty expensive but we are delighted to let you know that we maintain the most reasonable price rates in London.
They will be glad to give you any additional information and accommodate any special request concerning the availability and the specific day and time you want the cleaning services for. We guarantee that we will go above your expectations due to the huge help of our trained professionals, the modern equipment and cleaning techniques we have adopted and our commitment to deliver excellent cleaning services at sensible prices.
Call us at any time, we work round the clock, even during the holidays. Our office agents will be there to answer any questions of yours, provide you with more information, advise you on any particular situation or give you a free quote. Do not hesitate and reach us at 020 3745 5856