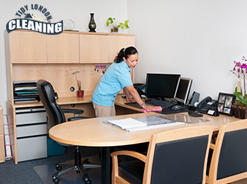 Every employer who is really concerned about the well being and the productivity of their employees would do their best to ensure a pleasant work environment where everybody would feel good and physically and mentally prepared to deal with all the challenging tasks for the upcoming week or month. Apart from treating their employees right, ensuring the cleanliness in the office is one of the essential details the employers have to pay attention to. Bearing that in mind, hiring a reputable and well – organised cleaning company that has experienced and knowledgeable staff is critically important.
You have just found your reliable cleaning provider that will take utmost care of your office area and, if you wish so, the entire commercial building. We have developed a competitive office cleaning package that includes all the procedures intended to maintain the office neat and clean all the time. Rest assured that it will pass any inspection by the authorities and make an incredibly good impression to your business partners or clients.
Office Cleaning from Tidy London
We know how distracting the sound of the vacuum cleaner or the presence of unknown people can be so we have established a flexible schedule for our cleaning experts. It enables them to come and take care of your property at the time you decide it wouldn't be a bother to you and your staff. Our cleaning professionals can carry out the office cleaning procedure before or after the working hours or during the lunch break so any inconvenience is kept to the minimum. The office cleaning services are said to be pretty expensive but we are delighted to let you know that we maintain the most reasonable price rates in entire London.
We provide to our customers real satisfaction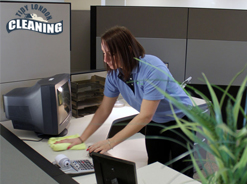 Our cleaning professional have been thoroughly trained prior to hiring and now we take pride in having the best cleaning operatives in the region. They are knowledgeable and skilful, prepared to take care of the common areas, sanitize the bathrooms and put everything in order so your office looks impeccable. No matter in which Great London area you commercial building is located at, our cleaning operatives will arrive there on time, in accordance with the initial schedule. Feel free to call our call centre operators and discuss the details about the office cleaning service with them.
High Class Office Cleaning in London
They will be glad to give you any additional information and accommodate any special request concerning the availability and the specific day and time you want the cleaning services for. We guarantee that we will go above your expectations due to the huge help of our trained professionals, the modern equipment and cleaning techniques we have adopted and our commitment to deliver excellent cleaning services at sensible prices. Call us at any time, we work round the clock, even during the holidays.