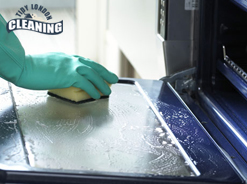 When your oven starts releasing unpleasant smells and you can barely see the surface because of all the burnt food deposits, it is time to call our oven cleaning company. We are professional cleaners who have the required certificates and are bound to serve London. We have a wealth of experience in the cleaning business. Our experts are professionally-screened. They don't just do cleaning, they specialise in oven cleaning and have been trained for this particular job. This means that they will get the job done right.
Whenever we do a deep, thorough cleaning of our homes, we often overlook the oven. Since the oven is the place where we cook all our meals and it is being used on a daily basis, lots of dirt and grease gather on the inside of it. We don't really pay attention to the interior of our ovens and we only clean the outside. It is important that we do not skip cleaning the inside of it, though, since this can not only cause unpleasant smell and smoke coming from your oven, but also cause a potential fire hazard.
Here are the benefits you receive when deep cleaning your oven
Reducing the potential fire hazard, caused by carbonised grease
Better, faster working oven
Even distribution of heat when using the oven
Removing bad, burning smell and smoke
Better taste of your meals
Healthier living conditions for you and your family
Hiring a professional company for your oven cleaning is quite important. Not only attempting to do that on your own requires a lot of time and effort, but there are also special products that you should use. The regular chemicals that we use in our regular domestic cleaning might cause health issues, since most of them contain harsh chemicals. We provide our cleaning technicians with the best quality tools and products, so they are able to clean your oven perfectly, without jeopardising your health.
Here are the steps of our oven cleaning service
First our cleaning technician will inspect the appliance and dismantle any removable parts of it. The racks, trays, panels and grills will be brought to our vans where they will be soaked in heated tanks, full of special solutions. The parts will soak while everything else is being cleaned. The detergent in the tanks will dissolve all grease and carbonised dirt from them and they will be clean and polished by the end of the process.
While everything is soaking in the vans, our cleaner will use a special paste to cover the whole inside of your oven. This paste is of natural origins and reacts with the grease on the walls of your oven, completely dissolving it. When the whole inside of the oven is covered, it is turned on and left for an hour or two. The heat activates the paste and results in grease removal and a flawless interior of the oven.
The stovetop and outside of the oven are cleaned in the meantime. All spills and burnt leftovers are scraped off with a special blade. After that a microfiber cloth with disinfectant on it is used to clean and polish the whole surface of your oven.
By the time all this is done, the parts in the van are done soaking. They are taken out, thoroughly wiped of all leftovers and disinfected with a microfiber cloth. This process results in perfectly clean oven parts.
While those are drying, the oven is turned off and the technician scrapes off all the paste, along with the grease it dissolved with a special blade. This results in all burnt grease and leftovers to be removed from the inside of your oven. When done with scraping, the technician will use a microfiber cloth and disinfectant to polish and finish off the inside of your oven,
All parts are reassembled and your oven is ready to use.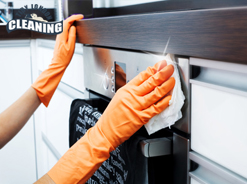 The job takes no more than a few hours. After the service has been completed, you can use your oven straight away. There is no need to wait for the products to work. Since we use no harsh chemicals, your oven will be absolutely harmless. You can start cooking right away. All products and solutions we use in the process are 100% safe, non-toxic, biodegradable and safe for human and pet health.
We would like to assure you that our company is certified and trustworthy. We carry out our services within our clients' properties on the day they have specified when booking the service. We bring along every cleaning tool and solution we are going to need during the cleaning session and we make sure no dirt or grime gets to spread in the areas adjacent to the oven.
Here is what to expect:
No harsh chemicals used during the process
Our cleaners wear uniforms
We use nature-friendly cleaning equipment
Scheduling is done by phone from the comfort of your home
No hidden fees
Floor protection to avoid excessive mess
We also clean AGA cookers, professional cookers, microwaves, BBQs and extractors.
We are careful, we have an eye for the detail and we do our best to improve the condition of your oven. We use the best cleaning solutions that are not harmful to your appliances or yo, but are extremely effective against baked-on food and debris.
We are serving in the following London areas:
Brixton
Soho
Islington
Camden Town
Whitechapel
Abbey Wood
Now might be a perfect time to make an appointment. Hurry up and book an oven cleaning service so that we send a crew of technicians as soon as possible. All our services are available in London. For your convenience, we are open from Monday to Sunday. If weekends are your preferred option, feel free to request an appointment for the weekend. We will be happy to serve you.
If your location is London and your oven is screaming out for cleaning, maybe you need our oven cleaning services. We are able to meet clients' criteria and standards. This is why we are confident we can help you. Our workers are trained and police-checked. We offer one of a kind solutions and professionalism.
You can call our office agents any time to ask for more information or receive a free quote. Reach us at 020 3745 5856!