Living in a leased property is easy and stress-free until the end of your tenancy is drawing near. Try not to panic when thinking about all these responsibilities concerning your moving out. We are reputable and experienced cleaning company focusing on the end of tenancy cleaning services as they are one of the most useful and most used cleaning procedures. We are favourably located in all of [%AREA%] and we are ready for action 24/7.
Regular cleaning is important for your health and your home's elegance and full vision. However, at a certain moment in your life you will find yourself in search for a professional cleaning company to give you an assisting hand. Such moment could be when the end of your tenancy comes. We presume that you are aware that in order to receive your pre-paid deposit money back you have to leave the rental property immaculately clean. Can you do it along with dealing with those moving-out duties?
End Of Tenancy Cleaning
Prices
Studio Flat

from £

89

One Bedroom Flat

from £

139

Two Bedroom Flat

from £

165

Three Bedroom Flat

from £

189
Readiness for action seven days of the week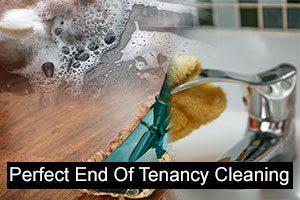 Our company for end of tenancy cleaning services is located in [%AREA%] plus nearby areas. Whenever you need some assistance with the cleaning chores, we are ready to serve you for a very reasonable price. Our headquarters are open Mondays through Sundays.
By booking with us you can benefit from:
our competitive and easy pricing system
environmentally friendly and biodegradable cleaning tools and products, supplied by our cleaners
availability around the clock
flexibility with working hours and dates
100 percent satisfaction
100 percent guarantee for getting your money deposit back
The end of tenancy cleaning services that can make your life much easier and enjoyable
Save yourself the trouble of cleaning on your own and give us the chance to clean your rental property instead of you. We can assure you that you and your landlord will be fully satisfied with the shining look of the residence.
Services We Provide
Carpet Cleaning
Oven Cleaning
Domestic Cleaning
Builders Cleaning
Flat Cleaning
Office Cleaning
Spring Cleaning
Upholstery Cleaning
Get in touch with some of our representatives to make you familiar with our cleaning equipment and procedures. If you want to meet our experted team of cleaners, we would be glad to introduce them to you.
Reliable Pre-tenancy Cleaning Services in London
When moving into a new property, it is extremely important to clear and clean the entire place. Different types of grime may be present, depending on the condition of the home -whether it is brand new and you need to clean industrial waste and large amounts of dust, or if it has been inhabited in the past and you have to deal with the mess left behind by previous tenants. What is more, as you dive deep into the cleaning process, you may find items that are broken and need to be repaired or fixed. All those factors make this task complicated, especially for an unprepared individual. You may take advantage of the professional pre-tenancy cleaning service we offer. Our expert cleaners are experienced and will use their best skills to eliminate all dust, grime and dirt from all corners and areas of the home. The trickiest part of this type of cleaning is the debris hiding in hard to reach or easy to miss areas. Rest assured that we will take care of those as well. See what they are below:
Benefits of booking our Pre-tenancy Cleaning:
You will have more time to pack better, organise the entire moving process, have fun and organise your new property the way you want. Our cleaning experts will complete all tasks in a short amount of time and prepare it for your arrival – you will be welcomed by a clean, immaculate property.
All traces of former occupants will be removed. This includes odours, stains, personal items and other unpleasant items that may interfere with your enjoyment of the property. We will work hard to ensure that the house is spotless and ready for your arrival.
You will be able to enjoy a clean, but also safe property. We do not use regular cleaning products that are free of chemicals. We only utilise non-toxic, eco-friendly cleaning solutions that will not put the health of your pets or children in jeopardy. Trust us with your home and your well- being – we will not disappoint you.
Our cleaning solutions are of the highest quality and we will ensure to meet all your needs.. You may be confident that our skilled cleaning specialists will utilise all of their skills and knowledge to prepare your flat for your arrival.
A list of cleaning chores that demand particular focus:
Carpets – a lot of dust, filth, and other grime usually collect in the fibres of your home's carpets/upholstery, especially if they have not been cleaned on a regular basis. We provide high-quality steam cleaning in which we employ high-quality gear and products to assure 100% stain removal efficiency, as well as thorough disinfection.
Bathroom – the cleaning of the bathroom may be the hardest task included in the pre-tenancy cleaning. It requires a lot of different products for the many different deposits and types of grime that can be found there. We have the solution for everything so trust us with the process.
Kitchen – all grease, grime and germs will be eliminated from your kitchen area – our professionals will scrub and disinfect all kitchen surfaces. You will be able to enjoy an immaculate cooking area that is free of dirt and buildup.
Hard to reach or hidden places – the cleaning experts on our team know about all the hidden and hard to reach areas throughout the house. They will ensure that no dirt and grime have been left behind. All surfaces and corners will be left immaculate and disinfected.
Disposal of items and waste – if the property you are moving into has been inhabited in the past, you may want to consider replacing certain items. Mattresses, toilet seats and rugs, for example, are best kept personal and not shared. The cleaning experts on our team will inspect these items and advise you on how to proceed. Keep in mind that those are items that will be an important part of your life.
Our satisfied clients
"Thank you very much for the great job, guys. Your cleaners put hard efforts to restore the initial cleanliness of the leased property and this was deeply appreciated. The inventory inspection went fine and I was able to keep the full amount of the deposit. Highly recommended. – Charlie"
"They cleaned my leased property several days ago and I can say only positive things about their cleaners. Diligent and friendly fellows, who worked hard for several hours and really exceeded the expectations of my landlord. This is what I call a professional cleaning service. – James"
"I am so glad that my friend recommended me to hire the end of tenancy cleaning service of this company. Thanks to their hardworking cleaners the entire property which I was vacating was sparkling clean and my landlord had no other choice but to give me back my entire deposit. – Renae"
"I have never thought that moving out can be this enjoyable. I booked the professional end of tenancy cleaning service of this company and I can honestly say that both the quality of the service and the price which I was charged were to my liking. I recommend their help to any tenant. – Arlo"
In case you are looking for professional and reliable cleaning contractor, you can always turn to our company and book our amazing end of tenancy cleaning services. We have been providing tenants, landlords and real estate agents with the flexible, customisable and reasonably priced end of tenancy cleaning services for plenty of years now.
We are operating in Soho so in case the real estate property is located anywhere in this area, feel free to book us. We work with the most disciplined and savvy cleaners, professionally trained to the highest standards. Contact us any day of the week and we will come to the rescue at a time convenient for you.