It is proven that moving out is one of the most stressful processes for outgoing tenants. This is perfectly natural as it is never just the move-out; outgoing tenants have various errands they must tackle prior to the actual moving out of the property. Of course, the end of tenancy cleaning is one of those things. Not surprisingly, doing it will not be a priority in your list of errands. Nevertheless, if you do not clean your rented place before you move out, you run the risk of losing the refund on your deposit money. Trust us, it is better to ask for assistance. Speaking of assistance, our professional cleaning company is experienced in end of tenancy cleaning and we guarantee that if you choose us to help you, the results will exceed all of your expectations. We cover Balham. Book our services today and the results will amaze you.
No sooner than we established our cleaning company more than three years ago than leading letting agents and landlords became attracted by what we are able to deliver. At Tidy Cleaners London we do not believe in false promises and that is why we make no promises which we can not keep. Choose us to clean your property and you will love the results.
All members of our team have completed an extensive training program where they were taught how to perform our services with excellence. Our technicians have a strong eye for detail and they are really friendly as well. What is more, we at Tidy Cleaners London invest a lot of time and effort to obtain the best cleaning products and machines on the market. Thus, if you choose us to help you, your rented property will be treated with the best cleaning gear in all Balham.
We know that some cleaning projects are more challenging than the others, but nothing can stop us from making the rental or rented property immaculately clean. We have all the needed cleaning tools and detergents. Our team of cleaning experts will sanitise and disinfect every surface, without turning a blind eye on anything.
End Of Tenancy Cleaning
Prices
Studio Flat

from £

89

One Bedroom Flat

from £

139

Two Bedroom Flat

from £

165

Three Bedroom Flat

from £

189
Amazing end of tenancy cleaning services in Balham provided from experienced cleaners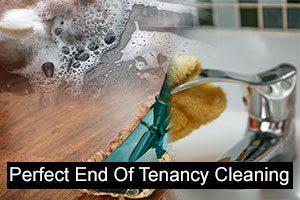 Before you vacate the rental place, it is better to sanitise it professionally. Thus, you will spare your nerves, efforts and money. But instead of burdening yourself with the end of tenancy cleaning, we ask you to rely on our help. Thanks to us, all properties in Balham are sanitised to perfection.
Our years of experience in the field of end of tenancy cleaning has given us enough practical knowledge to tailor an adequate package of end of tenancy cleaning services. Nevertheless, we know that the Customer knows best what is needed in their property. That is why we are ready to welcome any suggestions and add your demands to our checklists.
No matter how often you cleaned your rental place, you need to be aware of the fact that the final cleaning means sanitation and disinfection of every cranny, and not a mere vacuuming and dusting. To achieve a perfectly sanitised property, it is best to benefit from our services and rely on our knowledgeable experts. We will send a team of cleaners who will complete the cleaning task in the utmost way. In addition, the end of tenancy cleaning service offered by Tidy Cleaners London is guaranteed – we guarantee for the service up to 48 hours after completion.
We do not cover only Balham, however. In fact, the Customer may also book us in:
Willesden
Colindale
St Johns Wood
Mill Hill
Kilburn
Avoid any disputes with the landlord and be proud at the moment of the inventory inspection with our help. Dial our numbers and order our end of tenancy cleaning services, which we deliver in Balham.
The cost of our cleaning sessions is affordable, but the results are irreplaceable. We will lease a new life into your property and you will receive your initial bond back in full. Chose our cleaning services today.
Tidy Cleaners London specialise in:
Carpet Cleaning
Oven Cleaning
Domestic Cleaning
Builders Cleaning
Flat Cleaning
Office Cleaning
Spring Cleaning
Upholstery Cleaning
Reliable Pre-tenancy Cleaning Services in London
To be able to enjoy the new property you are moving into, a deep cleaning of the entire property is required. If you would like to have a fresh start in a neat place, give us a call and book our pre-tenancy cleaning service. It is important to have this task performed by professionals since it usually requires special tools and products, as well as a unique approach. The main reason for this is the fact that a lot of the grime may be hard to remove or simply hidden. If you are moving into a newly built property, there may be dust, grime and industrial waste. However, if you are moving into a property that used to have previous inhabitants, there may be smells, stains and rubbish left behind by them. Trust our experts with this task – they will efficiently clean the entire property and prepare it for your arrival. Do not hesitate to reach out to us – a lot of the grime that needs to be cleaned is usually easy to miss or hard to remove. You may rest assured that our cleaning professionals will do just that.
Benefits of booking our Pre-tenancy Cleaning:
You will have more time to pack more efficiently, plan the entire move, have fun, and organise your new home the way you want. Our cleaning professionals will perform all jobs quickly and prepare the home for your arrival – you will be able to relax in a clean, beautiful residence.
All traces of former occupants will be removed. This includes odours, stains, personal items and other unpleasant items that may interfere with your enjoyment of the property. We will work hard to ensure that the house is spotless and ready for your arrival.
Your new house will be completely cleaned and disinfected by our professionals which will be using high-quality professional cleaning products. They are all non-toxic, free of harsh chemicals and eco-friendly. Your entire family will be secure and happy in their new, clean home.
Rest assured that your apartment will be well taken care of. Our expert professionals have the skills and knowledge to thoroughly clean and disinfect every surface and corner of your new property. We guarantee the high quality of the final results.
A list of cleaning chores that demand particular focus:
Carpets – a lot of dust, filth, and other grime usually collect in the fibres of your home's carpets/upholstery, especially if they have not been cleaned on a regular basis. We provide high-quality steam cleaning in which we employ high-quality gear and products to assure 100% stain removal efficiency, as well as thorough disinfection.
Bathroom – one of the most important aspects of the cleaning procedure is the deep cleaning of the bathroom. Strong chemicals and a lot of wiping are normally involved. Our specialists know how to tackle all challenges in the most effective way using non-toxic products..
Kitchen – Kitchens rapidly acquire all types of debris, oil, and waste, which may lead to foul smells, stains, and an unsanitary environment. Our skilled cleaners will handle all of these concerns with care and guarantee that the space is spotless.
Hard to reach or hidden places – to ensure that the entire property is thoroughly cleaned, our professionals will reach a number of hidden places and thoroughly clean them. They will scrub and disinfect the areas, leaving no trace of dust or grime.
Disposal of items and waste – if you are willing to enjoy a completely clean and disinfected property, you may consider replacing or disposing of certain items. Those may be toilet seats, pillows, rugs, shower curtains and bed linen left behind by the previous tenants. Our cleaners will ensure that those have been replaced with new, hygienic items that will allow you to live in clean and healthy conditions.
Our satisfied clients
"After three years of living together with my old college roommate we decided its time to go our separate ways and get our own places. Both of us wanted to get our full deposits back and we would that wouldn't happened if we hadn't hired your company to do the end of tenancy cleaning. Good job guys! – Galvin"
"It was my first time hiring professional cleaning services to deal with my end of tenancy cleaning. If I am to be honest I must admit that the apartment was a complete mess. Everything from dog hair to mold. The team you sent struck me as dedicated and diligent people, they arrived right on time and did a splendid job with the place. I want to thank you for my full deposit return, which I received without any complications. – Peter"