After Builders Cleaning
Prices
After Builders Cleaning

£

20/h
Best Prices!
Yes, your apartment looks better since the renovation, but it would look even better if you booked us for the cleaning-up afterwards. Our professional after builders cleaning company offers professional cleaning of your property after renovation or reconstruction.
Our rates are affordable and our performance is outstanding. Our office is situated in Hammersmith and that's also where we operate.
After builders cleaning is important because during the reconstruction process, your property fills with all sorts of toxic dust specks which can cause serious health problems if they're left uncleaned.
We advise you to take advantage of our professional after builders cleaning services because our technicians are professional and have experience in the field. We know how important it is to disinfect the whole property after a renovation and that's why we'lla stay as long as we have to in order to deliver the best after builders cleaning services in Hammersmith.
Cleaning with precision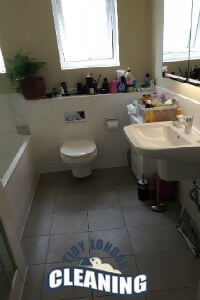 Our professional after builders cleaning company offers the best cleaning services in Hammersmith. Our services are delivered by professionals throughout the week, including on bank holidays.
After builders cleaning is incredibly time-consuming and difficult to perform if you don't have professional equipment. That's why it's better to use professional help for the cleaning process.
Our professional after builders cleaning company is equipped with ultramodern cleaning tools and materials which are applicable in big and small rooms alike and with which we're able to clean even the most difficult places to reach. We promise:
48-hour guarantee
Attention to detail
Professional treatment of paint stains
Absolute sanitation of every room in your property
Appealing performance-price ratios
No spot left behind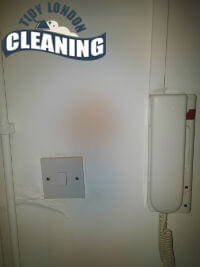 Unlike other professional after builders cleaning companies in Hammersmith, we take great care in removing dust and germs even from the most difficult places to reach. We know how easily dust and bacteria can accumulate even on those places and that's why we take extra care to sanitize them completely.
Contact us today and book our professional after builders cleaning services. Our services are available exclusively in Hammersmith at affordable prices. Book us and you won't regret it.
How our After Builders Cleaning works
If you have had your home renovated, it is highly possible that you ended up with a lot of dust and filth in addition to your newly rebuilt home. Unfortunately, cleaning these is a difficult process and you will need skills, expertise, tools and supplies. If you are overwhelmed by lots of work and other duties and are having difficulty completing this duty, contact us and schedule our after builders cleaning service. A team of some of the greatest cleaning specialists will arrive fully equipped and thoroughly clean and disinfect the flat's areas and surfaces. They will clean and polish all walls, appliances, corners, and grout, as well as eliminate fine dust that may cause discomfort or even health issues. Find a list of the tasks included in the service below.
The cleaning experts will first gather all rubbish, large dust particles, debris and others from all over the apartment.
Following that, all the furniture, high locations, and dirty surfaces will be cleaned and wiped off. The cleaning professionals will use the high-quality tools and materials that we provide. With their help, all the fine dust will be removed, leaving everything pristine and flawless.
All furniture throughout the entire property will be cleaned next. Our cleaning experts will carefully wipe down their surface using special cleaning solutions, and remove all stains, splatters, dust and other grime that ended up on them during the process of renovations and refurbishment.
Using special cleaning solutions that will not harm the surface, our cleaners will treat all the mess that occurred on hard materials (tile, grout, metal, etc.). They will scrub the solids, wipe the surface down and disinfect it.
To ensure that no signs of dust or other particles that may cause irritation are present, our cleaning experts will thoroughly vacuum clean all carpets, upholstery, curtains and rugs found in the home. They will use high quality special devices that are extremely efficient.
Following that, the cleaning professionals will remove stains from appliances in the kitchen, living room, bathroom and other parts of the home.
The final stage in the cleaning process is to disinfect all items that you touch on a daily basis, such as faucets, door handles and knobs, light switches, remote controls, appliance buttons, and so on.
Quick and simple way to book
Waste no time, give our office representatives a call (they are available every day of the week) and schedule a professional after builders cleaning service whenever the mess after your renovations is too big for you to take care of by yourself. We will provide you with a high standard cleaning solution that will be perfectly tailored to your needs. Ensure that you provide your booking agent with as much information as possible – this will help them understand the circumstances better and allow them to prepare the perfect service for your needs. You may rest assured that your property will be in good hands and that you will be provided with some of the best outcomes by the cleaning experts which will use the tools and products we provide them with. We guarantee the success of the project.
Our satisfied clients
"Many thanks to your incredible after builders cleaners. The cleaning team you sent to my home cleaned all the mess that the builders left in my home. They worked very hard and diligently. I have never come across to such efficient and affordable cleaning company. Thank you once again.- Joel"
"I can definitely recommend this company's after builders cleaning services without having any second thoughts. Their customer service is more than excellent and explained to me everything in details. I loved that their cleaners worked so quickly yet efficiently. Whatever I say for this company, would never be enough.- Ross"
"I just wanted to come and let people know that this company offers the best after builders cleaning services in this town. I have been using them for more than two years and I am always satisfied with their service. So if anyone here is looking for such services, I highly recommend this company's.- Matt"
If your home has recently undergone some renovations, then most probably you will need some extra help for the massive mess the builders left. For after builders cleaning, you can always find a partner in our company. We are professional after builders cleaning services provider operating in the area of Hammersmith.
We work with professional cleaners who are experienced in this field and can get you rid of all forms of pollutants and dust that are hiding in every nook and cranny of your home. We are equipped with the latest cleaning products available on the contemporary market. Call us.