After Builders Cleaning
Prices
After Builders Cleaning

£

20/h
Best Prices!
Cleaning a renovated property can be a real hassle if one doesn't possess the necessary knowledge. It is not so easy to eliminate building residues such as paint flecks, glue stains or grout. If you are searching for someone to deal with the construction chaos left by the builders, you are in the right place. When it comes to professional after builders cleaning, our company is the trusted leader in Palmers Green.
Working with us is convenient for everyone. Our professional cleaners are available every day of the week and they will assist you at a time that suits you best. Plus, we have a practical price system, so you don't need to worry over pricing. Just specify your requirements and leave the rest to us.
About our highly qualified cleaning personnel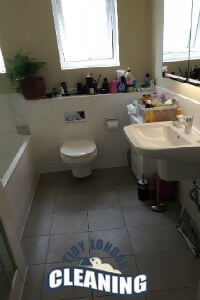 Our company was established several years ago in Palmers Green with the clear mission to deliver effective solutions and durable cleaning results. Today, our team consists only of vetted and knowledgeable individuals.
They orientate themselves easily in every property and always ensure an exceptional standard of cleanliness. This couldn't be the other way round because we organise extensive indoor training.
Being fully trained and armed with the requisite cleaning equipment, our representatives are able to tackle a wide range of building residue in a prompt and efficient manner.
In order to sanitise your renovated property, they will carry out an overall thorough hoovering, wash the hard floors, eliminate the thick layers of dust and much more.
Smart cleaning solutions for the citizens of Palmers Green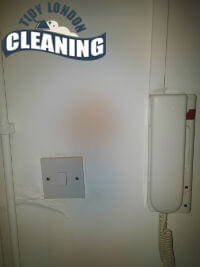 Our after builders cleaning was tested by hundreds of people already. Unlike other cleaning companies, we believe that it is not just a standard cleaning what our valued clients need. With us everyone is guaranteed to receive personal attention, a service of great value and 100 per cent customer satisfaction. We listen intently to every request.
If you also want to see your renovated home or commercial premise perfectly clean, don't hesitate to dial our number. We have the necessary manpower and professional equipment to deliver the exceptional standard of cleanliness you wish to see. Call us and share your requirements with our friendly call centre agents.
How our After Builders Cleaning works
Everybody does renovations at home once in a while. Even though this is important, the mess left behind by the building team may be overwhelming to clean. If you would like to save yourself time and effort and skip right to enjoying your new apartment, give us a call and book our after builders cleaning service. It is always executed by experienced professionals using high quality tools and products. They will efficiently wipe down, polish and disinfect all surfaces and areas of the property. All the fine dust, industrial waste and other grime will be eliminated. The entire apartment will be left immaculate and ready for your return. Do not hesitate to give us a call – we guarantee the amazing quality of the final results. Find a list of activities that will be performed during the cleaning service below.
Our cleaning experts will collect and dispose of all debris left behind by the construction crew before the actual cleaning service begins.
The fine dust that has accumulated throughout the property will be cleared next. The cleaning professionals will use professional quality supplies and cleaning agents to remove any filth from all high surfaces, furniture tops, and other locations. Everything will be cleaned, disinfected, and dust free.
Dust, grime, stains and splatters may occur on all furniture pieces throughout the room. To ensure that no areas have been overlooked, the cleaning experts will continue the service by cleaning bathroom, bedroom, kitchen and living room furniture. Everything will be cleaned, wiped down and disinfected.
Solid surfaces such as countertops and tiled walls will be cleaned. The cleaning professionals will remove any paint, concrete, or dirt that has accumulated on the surface. They will use a cleaning solution that has been specially selected for the material to ensure that no harm occurs.
The next stage in the cleaning procedure is vacuuming. All carpets and upholstery will be completely vacuumed (even if they were covered, dust will be present). The professionals will utilise an especially designed vacuum cleaner that is guaranteed to be 100% efficient.
Ovens, refrigerators, air conditioners and other appliances found in the home will be carefully wiped down and disinfected.
The final stage in the cleaning process is to disinfect all items that you touch on a daily basis, such as faucets, door handles and knobs, light switches, remote controls, appliance buttons, and so on.
Quick and simple way to book
You may find it difficult to properly clean your house especially after any form of remodelling. If you are in such a situation, please contact us to set up an appointment with one of our office staff. They are always accessible to assist you with the booking procedure. You will be asked a few questions, so make sure you answer them as thoroughly as possible – this will enable our booking representatives to better understand your circumstances and plan the best, most appropriate cleaning service for you. Everything will be tailored to your specific demands, and all of your unique preferences will be taken into account. All tools and supplies required for a good performance will be provided to our cleaning personnel. The top quality of the final outcomes is guaranteed so waste no time and give us a call.
Our satisfied clients
"I fell in love with your after builders cleaning service. I loved how fair your rates were. Your cleaners came to my home right on time and what impressed me the most was that they brought the cleaning equipment. I deeply appreciate your responsiveness and I will use you again in future.- Judy"
"I was pleasantly surprised with your after builders cleaning services. To be honest, I had some trust issues because other cleaning companies failed me a couple of times. Anyway, you are a far cry from them. I was so happy with the end results you gave me.- Brock"
"Your after builders cleaners were accurate and got all the job done in a short span of time. I supervised them during their sessions and still, they were so focused and quick. They had cleaning materials and deep cleaned everything in details. I was so happy with your after builders cleaning.- Daniel"
Cleaning the oven can be a tough task. Due to its everyday use, this kitchen appliance quickly accumulates grease and carbon deposits. Unfortunately, domestic materials are often an unreliable solution. The best way to maintain your oven free of germs is to hire a specialist at least once in several months.
If you are interested in such a first class cleaning service, our company is at your disposal in the entire Palmers Green. Once in your home, our representative will make a pre-cleaning inspection and after that disassemble the appliance. This enables them to clean entirely every nook. When all components are dry, the oven will be assembled again and polished.